Have I said pastors should not be involved in politics? No! They can be like the Rev Fr. in Benue, join a political party and contest. They can teach their congregations the truth in scripture and trust them to take the right decisions at the ballot based on what they have learnt but these pastors cannot even trust what they teach or have taught nothing for so long or just desperately need to control their sheep. When it comes to governance the ONLY option they have is the one taken by Jesus and Paul, respectful and prayerful compliance. Anything outside of this will lead to chaos and it will not be pretty for them
By Okolo Oteri Eme
When prophecies fail, pastors get irrationally invested in politics. It derails their interest in the truth of God's word and distracts them from their assignment to preach the gospel.
Sunday morning sermons now sound like Aisha Yesufu and some other ill-informed activists.
Did they so learn Christ? Definitely not!
They have left their calling to the very things Jesus distanced himself from. Paul, who instructed we fellow him as he followed Christ, was also coherent in his comments about political leaders and governance.
Now, let us examine the evidence. What was Jesus' attitude to governance and leaders under a repressive government in Roman occupied Israel? Before I answer that, I would like to draw your attention to the elephant in the room. The very reason Israel missed out on Christ. They were in search of a political Messiah when God only promised them a spiritual one. That is the reason many pastors today have completely lost it, of course against the background of false teachings and promises about prosperity, etc. Or do you not find it rather strange that they can ask the silly question of their congregation, "suffer never tire you"? When they had preached before now that our kingdom is not of this world and we operate an economy not subject to the earthly one? Is this the point I type I digress?
Ok, let me pull my thoughts back. The only reference Jesus made to governance was that of prayerful and respectful compliance. Giving to a Caeser (who brutally killed his people like rats), what belonged to him. Paul was a bit more expressive, but the only conclusion that can be made about his submissions is the same as Christ's. Remember, this was at a time when several activists and militia engaged Rome in terrorism and guerrilla warfare. The Israelites wanted desperately to be free of Rome, which was all the Messiah they needed. Not the Jesus God sent to them. Their religious leaders orchestrated his crucifixion under Rome, choosing Barabas in his stead.
It is on record that many pastors openly, tacitly, and covertly supported and funded the #EndSARS protests. For many, they had short – and medium-term goals, regime change, and thwarting the plans of BAT to run in 2023. Whether they were all fully aware of the end game is a question they have to answer. All of these is a build up from their loss at the polls in 2015 and 2019 through GEJ and then Atiku. The sad news for them is that won ma lule again.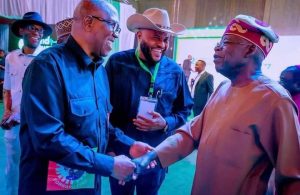 In 2023 many pastors have predictably pitched their tents with Petobi. I will leave the discussion of how divorced from scriptural standards that is (same with the choice of GEJ and Atiku) because they will never find scriptural alignment with political choices because, these are secular issues that can NEVER be spiritualized. How those who claim to have divine mandate to divide scriptures can not understand these basics is just a reflection of how far these pastors have drifted. In pushing Petobi's candidature they have applied the same strategies. Fake news, misinformation and selling doom and gloom that a Petobi with NO single record here on earth or anywhere else, has the magical powers to solve. These are issues they have endlessly promised their congregation they will rise above in prayer meetings, services and yearly one liners.
After BAT would have won, the frustration will continue to rise amongst them. It will be fed onto their congregation who will take irrational decisions like selling all to japa to an uncertain future. Tithes and offerings will dwindle as a direct consequence and indirectly from folks just tired of their shenanigans.
Have I said pastors should not be involved in politics? No! They can be like the Rev Fr. in Benue, join a political party and contest. They can teach their congregations the truth in scripture and trust them to take the right decisions at the ballot based on what they have learnt but these pastors cannot even trust what they teach or have taught nothing for so long or just desperately need to control their sheep. When it comes to governance the ONLY option they have is the one taken by Jesus and Paul, respectful and prayerful compliance. Anything outside of this will lead to chaos and it will not be pretty for them.
As for those who prophesied that BAT will die or have a stroke just watch, you have lied again just as you lied in 2015 and 2019 that PMB will die. He is here with us, presiding over you and there is absolutely NOTHING you can do about that.